Fog Cutter Creamer Cozy Fall Flavors
3 Ways To Cozy Up With Fog Cutter Creamer This Holiday Season
By Elisabeth Boniface | November 19th, 2020
Who's saving room for dessert? We support a little daily indulgence, but not at the expense of our health goals. Redemption Road Fog Cutter Creamer is here to bring you your daily dose of cozy, with Fall flavors that are sure to warm your heart and fuel your day. Our Fog Cutter Creamers are made with all-natural, high-protein ingredients to help kickstart your coffee break. Learn more about our flavor profiles, as well as some tips and tricks for incorporating Fog Cutter Creamer into your autumn wellness routine!
All of our Fog Cutter Creamers contains 8 grams of plant-powered protein to bring you a delicious and dairy-free alternative to sweeten up your day, one cup of coffee at a time. In addition to added protein, Redemption Road Fog Cutter Creamer contains MCT oil, commonly known for its ability to increase energy and curb appetite. All of our powdered creamers contain naturally-occurring astaxanthin, known for its antioxidant properties. Check out our favorite cozy fall flavors and some of our best tips for using your Fog Cutter Creamer to spice up your holiday beverages.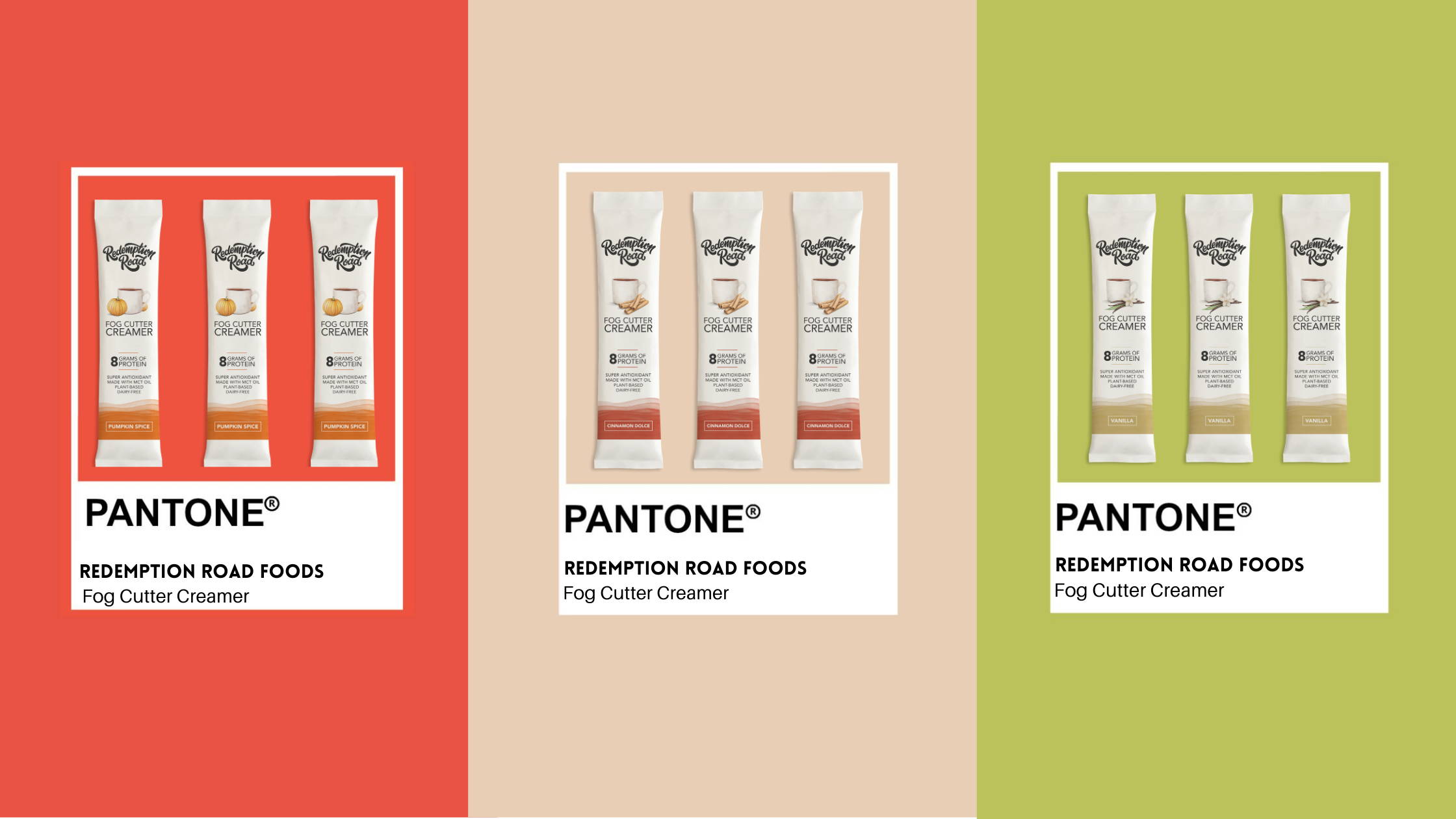 Nothing quite says Fall like the spicy, cozy scent of fresh-baked pumpkin pie. While it's tempting to have a slice (or two) every day until Thanksgiving, we're here to help you get your fix another way, while still fueling your body and mind. Our answer to the Pumpkin Spice Latte, Pumpkin Fog Cutter Creamer brings the creamy, cozy flavors of fall right to your mug, with notes of cinnamon and nutmeg to make you feel right at home.
Redemption Road Tip: Mix Pumpkin Fog Cutter Creamer into a hot cup of coffee and let the heat awaken the spice blends inside! Looking for a little weekend treat? Add some Bailey's to the mix for your next happy hour hayride or cozy fall brunch with friends.

For those who love to wake up to something sweet, Cinnamon Dolce Fog Cutter Creamer is like a cinnamon roll in your mug. Combining sweet and spicy, this antioxidant-packed powdered creamer is sure to keep your body and mind moving long after your first cup. We've formulated all of our flavors with extra benefits to create a healthful solution for even the sweetest sweet tooth. Cinnamon is believed to have natural anti-inflammatory benefits, making it the perfect seasonal pick-me-up to fight off sniffles.
Redemption Road Tip: Instead of warming up with a mug of hot chocolate, add Cinnamon Dolce creamer to your favorite non-dairy milk and add whipped cream or marshmallows for a low-sugar treat on a chilly evening.

Calling all classic coffeeshop lovers- our Vanilla Fog Cutter Creamer is the answer to all of your vanilla latte prayers. Inviting and sweet, this flavor will satisfy your sweet tooth and keep your mind and body at work. Added MCT oil, 8g of protein, and naturally-derived astaxanthin give your coffee a complete nutritional boost without added sugar. All of our Redemption Road Fog Cutter Creamers include antioxidant-rich astaxanthin, which studies have shown can be used to prevent inflammation and maintain healthy brain function.
Redemption Road Tip: Our Fog Cutter Creamer has 8g of protein, making it the perfect after-workout pick-me-up for your best (and most delicious) muscle recovery. Blend it with a frozen banana for a creamy protein smoothie.

Redemption Road Fog Cutter Creamer is available in single-serving sticks and one-pound bags. Whether you're stocking up on pantry staples or looking for a quick and nutritious solution on the go, we have a Redemption Road solution for you. All of these products and more of our Fog Cutter Creamers and powdered beverages can be purchased directly from our website- all e-commerce orders receive free shipping.
---
Redemption Road Foods is committed to creating better-for-you products that fit seamlessly into your diet. Our beverage mixes, plant-based Fog Cutter coffee creamers, and powdered milk mix are the perfect addition to your office pantry, gym bag, or anywhere you could use an extra nutritional boost. Explore more of our Fog Cutter Creamers below!